This past Sunday was a particularly gluttonous day for myself and two of my buddies. We grilled multiple times and overall ate a bit too much food, though a lot of it was vegetables. Lately I've been eating a lot more food due to biking everywhere but Sunday's grilling session was overkill. As you can imagine yesterday was a particularly slothful day as a result. Combine my technical issues on this blog with my general lackadaisicalness and I didn't leave my house for most of the day. At around 11:30 PM I was feeling restless and knew I wouldn't be able to get to sleep without getting my biking fix for the day so I filled up a water bottle and walked downstairs.
As I'm pulling my bicycle outside, I catch a glimpse of another cyclist as he pops onto the sidewalk adjacent to our house and nearly plows into our chain link fence. It threw me off-guard but I figured he simply wanted to avoid biking on the always busy Columbia road and thus jumped on the sidewalk before our street opened onto Columbia road. After tightening my helmet and tying my keys to my shorts I took off in the opposite direction, keeping my road bike on the road.
With no set destination in mind I started pedaling down Dorchester Avenue away from the city. Since I was in no hurry I casually pedaled about barely using any energy. This pedestrian pace allowed me to watch the other night walkers and cyclists go about their business and pleasure. Some people stumbled around and out of The Banshee, a father and daughter parked and unloaded a moving truck, and the cyclist from earlier rejoined me at the East Street – Freeport Street intersection. He furiously pedaled across the treacherous intersection though he barely kept up with my speed even though I was barely pedaling. The vast difference between our pedaling motions yet similar speed made me wonder how many people were turned off to bicycling due to using a heavy mountain bike in the city when a slim, light road cycle would have them pedaling through the city quicker than most cars.
As I ventured further down Dorchester Avenue I began thinking where I should turn. As I swooped into Field's Corner the skimp people traffic allowed me to get a good look at the newly redone MBTA station, something I missed during the day when I often fly down this street without taking in the sights. I'd yet to bike down Geneva Avenue so I banged a right at Park Street and then another onto the precarious way.
Going down Geneva Avenue was quite uneventful. As such I got a little bored and went full speed for a short distance, but not long enough to get tired. As I came up to Columbia Road I pulled over and drank some water. After half a minute, I turned onto Columbia Road and began the home-stretch, literally, of my little trip. By now it was around midnight. From where I turned, Columbia Road is mostly downhill to my humble abode in Edward Everett Square and with my nearly full gas tank I started flying down the street, feeling the wind and some road debris blasting me in the face and loving it.
HOOONK HOONK HONK HONK HOOOONK
Having been honked at too many times over the past two and a half months of cycling I slowly and nonchalantly look back over my left shoulder to see an old, rickety, black colored Honda Civic-esque box on four wheels weaving and bobbing behind me.
Before I proceed with this story let me drop some knowledge I've picked up over these past few months. When you're riding a bicycle on the city streets, if you don't take the lane when you need to cars will push you off the road. Further, a significant portion of automobile drivers are very, very, very incompetent at controlling their vehicle. These two facts cause me to own the lane by pedaling in the middle of it when I feel it's necessary. A lot of car drivers will give me a gentle honk when they want to pass me in such situations or just wait and pass when it's safe to do so. Another contingent of drivers fail to realize that a bicycle is a legal vehicle and honk and yell and swerve all over the road in an outrageous and dangerous attempt to show me that I'm in their way (duh, it's on purpose so they don't push me off the road).
If any such drivers are reading this, if I see you behind me and don't move to the side to let you pass there is a good reason for it and no matter what you do I'll continue to stay in the middle of the lane for my personal safety. I'm not an asshole, I'll let you pass when it's safe to do so. Please be patient the half minute will not kill you. So if you see a bicyclist taking up an entire lane, give a gentle honk and if they don't move aside, just wait! There's often a good reason for not letting you pass so just chill out. In most cases the car driver can use another lane but for some reason there's a lot of people who are just not able to use 2-3 lanes to pass a bicycle. Personally, if you can't maneuver your vehicle around a bicycle on a three lane street you probably shouldn't be allowed to drive what amounts to a petroleum-fueled passenger tank.
Back to the story. So I see this car behind me and see that they are angry and in a huge hurry so I move to the right slightly so that I'm only taking up 25% of the lane now. Note, the second lane to the driver's left is completely open and there are no other cars on the road. Also note the particular stretch of road I was on bends and curves so I took up a lane to make sure all drivers could see me.
WHAT THE F*CK A**HOLE!?!?!? GET OUT OF MY WAY IDIOT!?!?!
At this point I can't keep quiet and as the car shoots past me simply reply back "I'm a legal vehicle". Big mistake on my part informing this person that my taxes pay for these roads just as much as his do. The rusted dinosaur comes to a halt in the middle of the road and waits the few seconds for me to catch up to him. What happens next almost made me fall off my bicycle. Anyone whose seen the movie Super Troopers
should get a chuckle out of this exchange.
As I pedal up to the car I get a chance to see the driver and his passenger. They both appear to be in their mid-twenties. The driver looks to be Dominican or Puerto Rican and is about 250-275 pounds and about 5'9 or 5'10. His passenger stares straight ahead during the entire exchange and doesn't say anything but she too appears to be of Caribbean descent though lighter skinned and skinny.
At this point we're both slowly rolling up to a red light and entering a part of Columbia Road that widens a little bit.
What? What is wrong with you dumbass!?!?!
Me: "Nothing, I'm a legal vehicle. It's not my fault you can't get your car around a bicycle."
What? Just pull over and stay over idiot!?!?!*!
Me: "I'm already pulled over."
Pull over some more!?!?! Asshole!?!?!
Me: "I'm already pulled over I can't pull over anymore"
To the Super Troopers
fans out there, at this point I fully expected someone to pop out from behind me and go "he's already pulled over, he can't pull over any farther". If the dude's girlfriend (more likely sister or cousin) said those words I would've fallen off my bike laughing.
For some reason this exchange just gets the driver even more livid as he bounces around his car and swerves his car about the road uncontrollably. He says a few more choice words and then drops this bomb on me:
Do you know where you are white boy?
Now, oddly enough he didn't have a Bostonian accent and sounded like he immigrated here from a Caribbean island so I'll assume that he wasn't born and raised right down the street as I was. Up until this point I remained calm and cool headed but once he brought my race into it and assumed that because I'm white and in the ghetto that I must be lost, well, I got upset.
At his point we arrive at the red light and he stops his car.
I stop my bicycle and for a split-second consider explaining to the driver the situation, particularly how this was my neighborhood! Instead I relied on my knowledge from Web Quotes V of how to avoid conflict like a samurai warrior, looked both ways up Glendale Street and booked it across the intersection. I made it a good way down the road before I heard the cars revving up behind me. At this point I pulled over so far to the side of the road that I was practically leaning against the parked cars and let the anxious and angry speedster fly past me.
Luckily earlier in the day I was browsing the City of Boston web-site and came across a very interesting form. On the site is a .pdf form for citizens to file complaints against motor vehicle operators! So as this guy drives past me I pay real careful attention to the back of his rickety box on four wheels and note the six characters comprising his license plate.
That's right, I got your license plate buddy! Fortunately for him I've cooled off since then and would rather the incident draw to a conclusion here rather than be slowly and pointlessly prolonged through a court system. But I've got the license plate number saved and might give the DMV a call and see if they could perhaps send him a pamphlet explaining the rules of the road. Should I file a complaint? What about running the red light, was it called for considering I was trying to avoid conflict? After all, there is another pamphlet on the City of Boston web-site telling cyclists to not be a road warrior. Personally I feel my actions were justified but I am after all biased!
For the curious, here's a Google map of my route.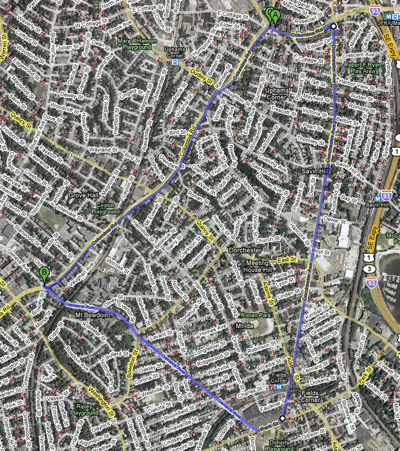 Also, if anyone was walking down Columbia Road and wondering why a white kid was pedaling down the street laughing and confusingly reciting "Do you know where you are whiteboy", well, now you know.