As promised in last night's post, here's a more in-depth review of Ronald Jenkees self-titled debut album
.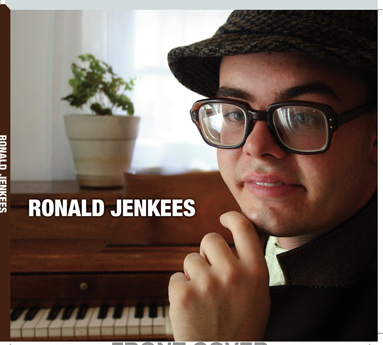 Derty
The album starts out with one of my favorite songs, which is a great song all unto itself, but gets extra points for introducing Bill Simmons's podcast. It's been a lot of fun watching this song progress from his YouTube video to a more refined version posted on his blog to this album cut. Since Ronald describes this song so well, I'll let him take over:
"It's got a real dirty sound, like a rusty steak knife cutting through a well aged steak."
Damn right it does RJ. Who needs soap when dirty sounds this good?
Score: 6/5
Neptune
Ronald switches gears from the viciously loud Derty to the slow and gentle cascades of Neptune. Though it's a bit slow for my tastes, it has been growing on me. The synthesized violin on this track and Ronald's mad piano skills complement each other so well you'd think there's two other musicians in the room with him. Nope. It's all Jenkees!
Score: 4/5
Canon in D Remix
Whoah, this track starts off sounding like quaint ballroom music and turns into a steadily building crescendo of synthesized guitar, piano and violin. You start off thinking what the heck Ronald and before you know it you're playing air guitar. A soaring stroll through a synthesized land of rocking out.
Score: 5/5
Clutter
Jenkees drops the glassy beats quickly and cleverly. Constantly tantalizing with what seems like a million glasses of water, being banged away on by a small army of clinkers.
Score: 4/5
Super-Fun
Is it just me, or would this song sound right at home in a Japanese role playing game, along the lines of Final Fantasy? Though it's not quite my cup of techno-ish tea, the song builds to a fiery and rousing electronic symphony.
Score: 4/5
The Rocky Song Remixed
This song just might get Slyvester Stallone to make another Rocky movie, which actually makes it lose one point. Rocky Balboa was OK but it's got to STOP!
Score: 4/5
Snap
Some marketing company is going to offer Ronald buckets of cash to use the first 30 seconds of this beat in a commercial. Luckily for us, the rest of the track is just as good. A catchy beat with diverse enough changes to keep your interest over the whole track. Love the tapping of keys on a keyboard. Tippity tap tap!
Score: 5/5
The Sunfish Song
Ronald Jenkees comes at it hard on this song, with a thundering piano and thriving bass, this track is pleasantly chaotic. His talent at manipulating the piano to his mind's content shines on this track.
Score: 4/5
Loui
My comment yesterday, "A slow jaunt through a dreary landscape with hopeful peaks" explains it pretty well. Ronald takes us on a techno-ish journey here and builds and drops the mood of the song continuously while still maintaining a coherent vibe of hope.
Score: 5/5
Gold Spinners
Funky, energetic and soulful. Smooth from start to finish, like a nice cold beer after a long day's work, this song just makes you plain feel good. A synthesized saxophone casually pokes in through Ronald's smooth piano notes and warm beats. It's got the feel of a salsa song which the soul of a blues song, it's one of my favorites from start to finish.
Score: 5/5
Remix to a Remix
Begging for a talented hip-hop lyricist, this beat is hot.
Score: 5/5
Almost Undamaged – So good I bought it twice. It's the perfect beat for walking around your city or neighborhood on a warm summer afternoon, there's thing this called soul that is sorely lacking from many modern musicians, but gigabytes of Ronald's comes through on this track. Parts of the song have this clapping type noise that almost sounds like a train chugging along down the tracks, and that seems to be the flow of the song, to keep pushing forward, because everything is all right.
Score: Infinity/5
56K
Please hold my calls cuz I'm using the phone
Dial up modem analog connection.
Rap about 56K modems = comedic genius. Nuff said.
Score: 5/5
Ain't No Thang
Here Ronald takes a look at rap culture, laid over a classic hard southern beat. Ronald pokes fun at the extravagant rappers who rap about their blinged out cars and piles of cash by rapping about his situation:
My cash, my jewels, my car it ain't no thing
We also see Ronald can't afford no speeding tickets:
Tapping on my brakes to the sound of my beats
I got the red lights blinking at the sight of the heat
Ronald's not gonna win any awards for his rapping, but it's all about having fun and it's easily apparent he's having a blast on this song.
Nuh uh. You cant coax me to floss.
Even though Jenkees doesn't sample music, he does get a lot of inspiration from The Neptunes beat on Drop it Like It's Hot on this track. Synthesized tongue clicks…wow.
Score: 5/5
[Edit: Ronald corrected me on a few of the lyrics and I thought I'd post it here for accuracy's sake: "The real lyrics: tappin on my breaks to the sound of this heat (just meant the heat coming off the track)..can't coax me to flow (can't trick me into rapping) But don't change a thing (unless you want to). The lyrics don't make much sense anyways, and it still makes me laugh!!" Thanks Ronald!]
As the scores above show, there are no duds on this album. The YouTube videos and Ronald's blog previews gave us all expectations about this album and built the hype to epic proportions. Ronald smashes past all those expectations and delivers a soulful, energetic record of thoughtful beats. He says it's all about having fun, but there is a level of authenticity streaming throughout these beats that shows thought rarely seen in today's commercialized music world.
Ronald says more here with his beats than many artists say over their whole careers. He pours himself into his music and shares it with us all, hoping we'll like it but not catering to us. Well, Ronald, we love it! If anything, it's not enough fun! You've got the album down, now it's time for the Ronald Jenkees world tour!
The Ronald Jenkees self-titled debut album is available at the music store on his blog Amazon.com
for the bargain price of $10 $8.99, with individual tracks price at $1. Check it out now!