Just a quick note to let everyone know that contrary to the Mail on Sunday's reports that Robin Gunningham is Banksy that I, Adam Pieniazek, am actually Banksy. Yes, even though I have nearly no ability to draw I am in fact the great vigilante stencil graffiti artist.
Check it out, here's me duplicating some of the art on my public web-site, Banksy to prove I am the real Banksy.

See. Clearly I am Banksy as that signature which I just wrote looks exactly like the one on the main Banksy site.
Yup, the whole being British thing and living in the U.K. was just a ploy to throw you off my scent. Though I've preferred to perform my art in anonymity, I must now come out and declare myself publicly to prevent that hack Robin Gunningham from getting the credit for my brilliance.
Here's the me replicating the infamous gorilla from my menu page.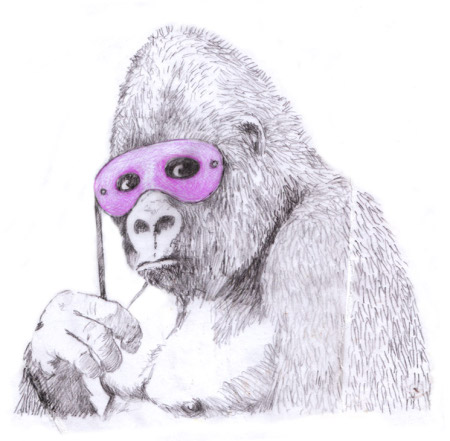 See. Identical.
Even the purple will make sense now. It's a shout-out to my real public high school, the Boston Latin School, whose fine art department and classic education made me the rebel I am today.
So once again, do not believe the Mail on Sunday when they "report" that Robin Gunningham is Banksy.
No, I am Banksy.
I will now retire to my own personal island for I am rich.
Oh, and here's one of my favorite Banksy / Adam Pieniazek pieces:
Don't believe me?
Are you Banksy?