It's with great pride and honor that adampieniazek.com brings you its first ever contest. It's been nearly six months since this blog's first post and to celebrate I'll be giving away a free copy of Ronald Jenkees' self-titled debut album.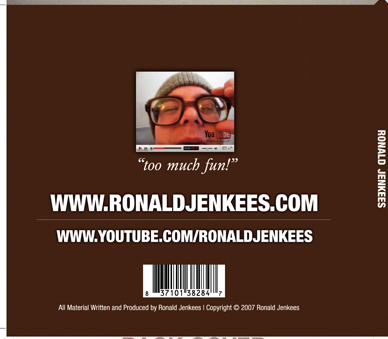 Through the months, all of this blog's crucial statistics have improved (on pace to blow out my high mark for unique visitors tonight), except one: comments!
So, in an attempt to increase those numbers, this contest will be very simple; simply comment on this post and you'll entered for a chance at Ronald's awesome CD! For those who don't want to wait a week, you can order Ronald's debut album directly from his blog.
At the end of the contest, all comments will be reviewed and all valid comments (not spam) will be tossed into a pool and randomly chosen. You can comment on anything you want, but I'm interested in how you first heard about Ronald Jenkees and what do you think of his music?
This contest will end next Monday at midnight. Make sure you leave an e-mail address when commenting so I can get in contact with the winner. Good luck!