Lately I've felt the need to get rid of a lot of clutter in my life, both physical and digital and operate on a more minimalist spectrum. I've spent the past few days organizing e-mails, catching up on RSS feeds, and centralizing my files. Let's take a look at twenty of the Mac applications that I just tossed out. Why? Well, you know what they say. Oh you don't, well you better start paying attention, they rule the world you know.
One man's trash is another man's treasure.
So let's see if there's any hidden treasures among my trash!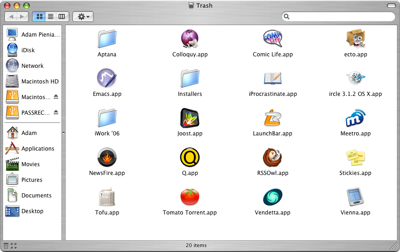 Emacs

I prefer Aquamacs, though there is certainly nothing wrong with Emacs.

Meetro

Meh, AIM, facebook, twitter, and pownce are enough (in fact more than enough).

Tomato Torrents

I prefer Transmission though Tomato Torrents works fine Transmission seems to be faster and better organized.

Launchbar

Quicksilver rules. Launchbar just did not seem to be as extensive or as intuitive as Quicksilver and thusly in this household we obey the shortcuts of Quicksilver!

Joost

Joost is a great idea, but at the moment there is not enough good content to take up my hard drive space and time.

Vienna

Now that NetNewsWire is free I much, much prefer it to Vienna. While NNW was not free Vienna performed admirably but there's just no need for it now.

Aptana

Looks cool but a bit beyond my league at the moment. Might go back and download this later as I learn more but right now it's just clutter.

Colloquy

See Meetro above. My geek status will lose points for not having an IRC client installed but I can live with it for now. Besides nearly everyone I know is on AIM or twitter so I won't be losing touch with anyone.

Comic Life

Cool but frivolous. In essence this program allowed you to comic bookize your photos by adding speech bubbles and comic book style actions.

iProcrastinate

I didn't use this once. I knew I wouldn't when I downloaded it but I installed it nonetheless. No wonder I struggle to get things done sometimes.

Keynote

30 day Trial I never deleted from when I got my Macbook Pro a year ago.

Pages

See Keynote.

NewsFire

See Vienna.

Vendetta

This game looked really cool but also time-consuming and I just don't have oodles of free time (contrary to popular belief, quitting your job does not give you tons of free time) to devote to learning the intricacies of this game.

RSSOwl

See Newsfire and Vienna.

q [QEMU]

Yeah, I really just never needed this, see Aptana but much more so.

ircle

See Colloquy.

Tofu

Good idea but in the end it's just another application that rarely gets used adding to my digital clutter.

Stickies

I use Devonnotes for all my note taking needs. It's an awesome program btw. Didn't really use stickies enough to comment on them one way or the other but it seemed functional.

ecto

Cool program but don't have the monetary flow to buy it right now. Anyone know any good free open-source alternatives?
Any programs up there that I should give another try?