Honking is to alert other drivers to a potentially dangerous situation. Honking is not for relieving your rush-hour anger or for encouraging cyclists to get out of your way. The road is not yours, it is ours. We must share it. Honking for no reason only serves to minimize the power of the horn.
You Honk, I Slow Down
Besides, it only serves to give you less space when honking at cyclists like me. I'm a big believer in owning the road as a safety precaution. If you think you need more space, take it. Pedaling confidently is much safer for the cyclist, other vehicles and pedestrians.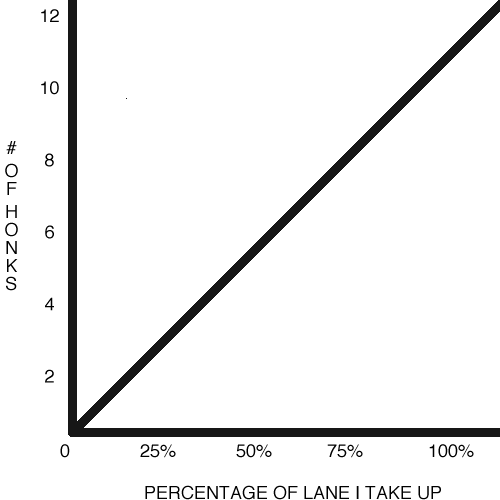 Does this mean I always take up the whole lane anytime someone honks at me? No, it does mean that when I hear a honk I slow down and look around. If the honking was valid, for example I fell asleep at a green light or was blocking an emergency vehicle, then of course I adjust appropriately. If the honking was to encourage me to move over so you can speed past me, then I usually move further into the lane and block you from passing me.
Why do I do this?
Because 90% of the time if you can't pass a bicycle you either shouldn't be passing because the road is too narrow or you suck at driving. Often, it's the latter. Years of cycling has taught me that moving aside for the aggressive driver is more dangerous than owning the lane and preventing this person who shouldn't be allowed to drive from barreling past me at unsafe speeds.
I also own the lane if I need to because cars and New England winters have turned the road surface into a scene right out of Wack-A-Mole. If I need to take up the whole lane and slow down a bunch of cars to avoid the potholes created cars, then that's what I'm going to do. You getting to the next red light is not a priority for me, me getting there safely is.
So next time you see a bicyclist taking up "too much space" or impeding you somehow, look around first and see if there's a reason for it. Don't instantly blast your horn because it may simply slow you down even further.