Jeff from Iambetterthanu.com posted a real interesting link to his pownce page today. It's a link to a new search engine that gives previews of the sites in its search results (I know, not that unique, ask.com and snap.com among many others feature previews). The fact it provides previews of sites isn't all that unique, it's how they present the results.
The site is RedZee and here's a picture of its nice and simple home page: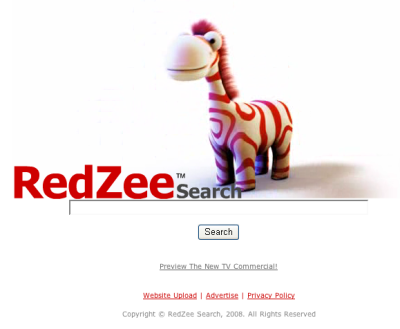 Yup, search results are posted in a scrollable wheel of site previews! It's pretty cool though their search engine needs some fine-tuning.
Yup, the zebra is cute. It's also animated, and yes you can lose a few minutes of your life staring at it do its' zebra thing.
Anyway, the unique part about RedZee is how they show you their search results. The best way to explain this concept is to show you so let's see what happens when we search for "U.S. presidential candidates":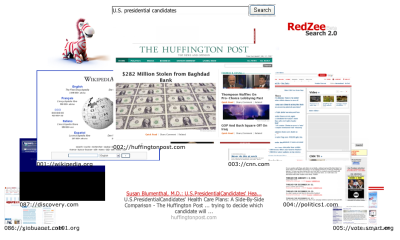 Search results are returned to you in a scrollable wheel of site previews! For U.S. Presidential Candidates, RedZee returned 87 hits with all but seven site previews hidden away off screen. It's pretty cool and actually a great way to scan through search results, but the search engine itself could use a good chunk of fine-tuning. Also, there's a considerable load-time (it varied but up to 15-20 seconds) waiting for the wheel of site previews to load. Still, the wheel is such a unique way of presenting search results it's at least worth a quick look.