Well, the anti-Patriots machine is running full-blast with Senator Arlen Specter asking why the "Spygate" tapes were destroyed and Matt Walsh, former video assistant with the Pats, claiming to possess evidence of the organization cheating well before this year or last year. Meanwhile, an anonymous source tells ESPN that the Patriots taped the Rams walk-through the day before the Super Bowl.
Make what you will of these accusations, but there is one thing we can all agree with; Bill Belichick gets better and better when he has more time to prepare. So, not only do the Giants have to fear the game plan Bill has concocted and put into place over the past two weeks, but also fear the advanced surveillance technologies we've surely either invented or purchased and already implemented by now. If the Patriots were videotaping the Rams walk through from the stands back in 2002, imagine the spying techniques we've since developed. Everyone jokes about Bill Belichick's spy satellites, but I wouldn't doubt Bob Kraft funding such a device if Bill asked for one.
Could Tom Coughlin be a cylon clone of the real Tom Coughlin, manufactured and slipped into the Giants organization by Ernie Adams, the invisible wonder? Are we sure the footballs used in tomorrow's big game aren't radio controlled? Do we know where the referees are tonight? Are we sure they're not tucked away somewhere in their hotel being brainwashed by someone in the Patriots organization? Is the P.A.T.R.I.O.T. Act just a decoy from the Patriots worldwide surveillance network?
Enough questions. Tomorrow night is about answers; if the New England Patriots defeat the New York Giants to complete an undefeated season and capture a fourth Vince Lombardi trophy in seven years, they will be the greatest football dynasty ever. They've faced tougher competition under stricter circumstances and vanquished all challengers so far. There is no debate, with a win tomorrow these New England Patriots will become the prototypical NFL organization. Spygate, the Tom Brady baby mama drama, the Ted Johnson concussion controversy,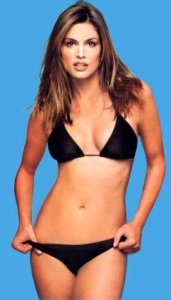 Rodney Harrison's HGH suspension and all the other criticisms are just blemishes on an awesome, so far, body of work. As Cindy Crawford proved years ago, blemished bodies can still be perfect.
So let's stop focusing on the past and look forward to tomorrow and what just might be the best display of football we've ever seen. I expect both teams to play near-perfect football and for the contest to come down to the last few minutes, just like their week 17 match up. I feel both teams passing offenses match up well against the opposing team's defense and both teams will come out throwing the ball. We all know about the Patriots spread offense and the Giants will utilize a similar strategy to take advantage of their height advantage over the Pats cornerbacks. Don't get me wrong, they'll both run the ball moderately well but I expect this game to be an air show, with both quarterbacks throwing for 3-5 touchdowns.
In the end, the Patriots have the advantage in this game due to their experience, higher talent levels and greater depth. Also, I'll take Bill Belichick over Tom Coughlin any day of the week. It'll be a nail-biter but I think and hope the Patriots will succeed on their quest for a fourth Lombardi trophy. Having said all those words, I'm still a little bit nervous and very, very anxious for this game to start, exactly how I've felt before every other game this year.
Patriots 56, Giants 52