Today I'm introducing a new monthly feature post for this blog. After each month comes to a close I'll share some statistics about this blog with you. I intend for these posts to be brief but informative for readers and advertisers. Speaking of which, click here if you'd like to purchase a 125 x 125 advertisement on this site.
For the month of June this blog had:
329,576 hits
98,242 page-views
18,556 visits
13,707 unique visitors
The above list does not include 51,120 hits and 50,231 page-views from robots, crawlers, worms and other similar traffic sources. In other words, the above list is human only; that's a lot of eyeballs! Here is the same information in a bar graph: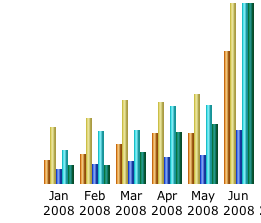 My highest trafficked day was June 18th with 43,827 page-views spread over 7,570 visits. Yup, that was the day I was listed on fark.com for this post about the similarity between John McCain and Colonel Tigh from Battlestar Galactica.
This blog is also syndicated via RSS to an average of twenty readers, with a high of 76 readers on June 18th. My facebook profile also pulls a short excerpt of each post and broadcasts it via RSS to my 397 friends.
The five most viewed posts on this blog for the month of June were:
Finally, the five most used search keyphrases that brought visitors here were:
pieniazek
anova test
photo
ronald jenkees
finite population correction factor
If there are any other statistics anyone would like to see let me know and I'll add them (if possible). Thanks to everyone for making June my best month yet! You all rock!