Archives by date
You are browsing the site archives by date.
By Adam on April 29, 2009
Be prepared for it to get real dusty wherever you are. I logged into my facebook account earlier and saw a shared video link from Mona. Since she usually shares awesome links I clicked through and was blown away. The link was to a Gizmodo post titled Best Video I've Seen Today Will Make You […]
Posted in Video | Tagged Music | 10 Responses
By Adam on April 27, 2009
It was a very action packed Boston sports weekend, combined with the very warm weather some might say it was a near perfect Boston weekend. We had the Celtics play the Bulls into double overtime, the Patriots draft day, and the biggest rivalry in all of professional sports in town at Fenway Park. Unfortunately, (or […]
Posted in Boston | Tagged Red Sox, Video | 5 Responses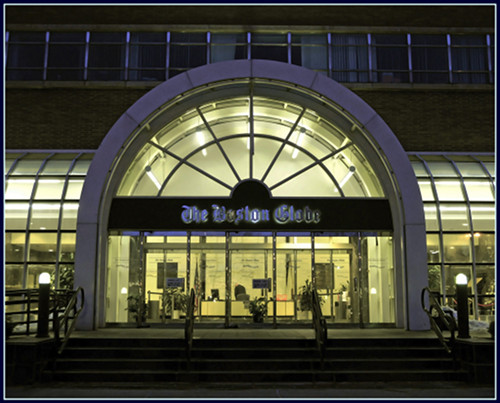 By Adam on April 22, 2009
Lately every Boston blogger except yours truly has thrown around ideas on how to save the Boston Globe. I won't discuss whether it deserves to be saved, for the purpose of this article we'll assume it is a valuable part of the community (both in terms of jobs and journalism) and assume it needs to […]
Posted in Boston | Tagged newspapers, the boston globe | 14 Responses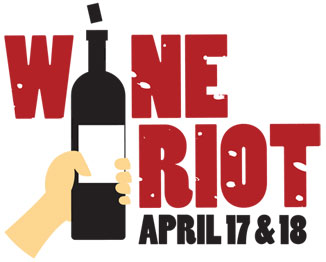 By Adam on April 16, 2009
Since it seems my readers love when I write about alcohol, let me tell you about a great event I'm attending this Friday called Wine Riot! The event is hosted by The Second Glass and Dig magazines. It is basically a two day wine festival with all you can drink wine from distributors from around […]
Posted in Boston | Tagged alcohol, wine, wine riot! | 3 Responses
By Adam on April 13, 2009
To all the bloggers amongst my readers, the video below is a must watch. It's a short video from CBS by Josh Landis and Mitch Butler which shows the concept of blogging is not really as new as we think. It's a fascinating video and it's less than 3 minutes long. In fact, I'll say […]
Posted in Video | Tagged blogging, newspapers | 8 Responses
By Adam on April 10, 2009
No official post today but bounce on over to The 42nd Estate and check out my list of 42 great twitter users to follow for #followfriday. They're all great people and very worthy of you follows, check them out and let me know your favorite tweeters!
Posted in Technology | Tagged twitter | 10 Responses
By Adam on April 8, 2009
It's been a long, tough year with many challenges along the way, but we made it! The 42nd Estate is officially one year old! Head over to the site and celebrate with us as we give away $42 and a pair of Celtics playoff tickets. Way to be The 42nd Estate, way to be. Thanks […]
Posted in Business | Tagged the 42nd estate | 5 Responses
By Adam on April 7, 2009
Congratulations on your fifth NCAA basketball title. And thanks for extending my personal streak of titles won by my sports teams to ten in the past eight years! For everyone like me who couldn't make it out there, check out this video of Franklin Street from the Daily Tar Heel. Here's a time-lapse of the […]
Posted in Sports | Tagged celebration, tarheels, UNC-Chapel hill, Video | 6 Responses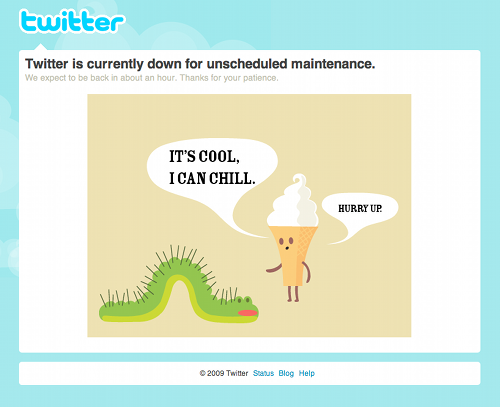 By Adam on April 6, 2009
Well, I've seen the fail whale but the chill cone and constructive caterpillar are new. Down for scheduled maintenance, eh? Would've been nice if they just went ahead and took it down yesterday, according to schedule rather than randomly but alas, such is life when fail whales dominate the day.
Posted in Technology | Tagged twitter | 8 Responses
By Adam on April 6, 2009
Over at The 42nd Estate, we recently launched a new site, Sports Fan 4, which mainly covers the local Boston sports teams but will also report on the national scene and big stories from other teams. For instance, Josh just posted a preview of the Final Four national championship game going down tonight between my […]
Posted in Boston | Tagged bill simmons, josh gans, Sports
By Adam on April 2, 2009
As you may know, the company I co-founded will be turning one on April 8th! It's been a long, tough year but we will survive. To celebrate this great occasion we're holding three contests, two of which we've already announced. The third contest will be announced soon but I can give you a small hint, […]
Posted in Business | Tagged Boston, cash, Celtics, contest, money, the 42nd estate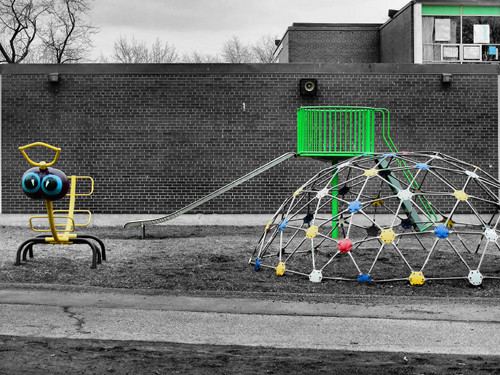 By Adam on April 1, 2009
Seeing as how some of the biggest news sources in Boston and the national scene have resorted to writing articles about high school rumors involving vampires, it is my duty as a blogger to sink to even lower levels. Thus, I'm proud to bring you the first (and most likely only) edition of the Elementary […]
Posted in funny | Tagged rumors, satire, school | 2 Responses