A few weeks ago, I joined the blogger community Entrecard. A few days later my blog set new records for highest traffic in a single day, according to both wordpress stats and awstats.
Clearly, this Entrecard site had tons of potential to be a huge source of quality traffic to my blog, however, there was one issue. Dropping cards, the method to build credits to buy Entrecard ads and encourage others to come to your site, is very time consuming.
There was no way I could go around dropping cards all day long so I immediately began working on a better way. After nearly a week of endless hacking and mucking about, I've finally finished developing eDropper, the world's first automated Entrecard dropper!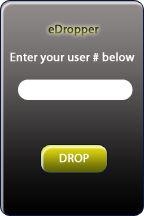 How does it work?
By inputting your Entrecard user #, which is the number after /user/ in the Entrecard url when you are in the Entrecard dashboard [for instance, mine is 8658], eDropper will then go through the list over at powerdropping.com automatically dropping your card on each site on that list!
Once your Entrecard user ID is entered, eDropper is a one-click drop process that runs silently in the background!
How much does it cost?
eDropper is available for Windows, Mac OS X, Linux, and even as a Apple Dashboard Widget! For this week only, I'll be offering eDropper for free! After this week, eDropper will be available for the low, low price of $10. Head over to the download section to pick up eDropper today.
If you love eDropper so much you want to show some financial appreciation, feel free to donate to me via Paypal (credit cards accepted too via Paypal).
If you have any questions about eDropper feel free to send me an e-mail or leave a comment below. I'm a bit tired from putting the finishing touches on this program but will respond as soon as possible.
Enjoy!
Edit: This post was an April Fool's Joke. Below is the eDropper download page, which has since been deleted.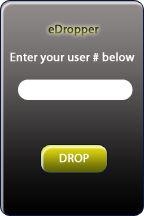 …doesn't exist!
Happy April Fool's Day!
The best way to express any emotion you're feeling right now is surely to subscribe to my feed!
If you liked the joke, feel free to still donate.
If you've stumbled upon this page and are wondering what's going on, check out this post.