Archives by date
You are browsing the site archives by date.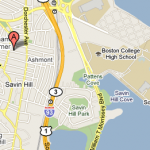 By Adam on September 23, 2010
While Milton was preparing for an invasion from Mattapan, looks like we should've taken a closer look inside Dorchester as Ashmont recently got up and moved itself to North Dorchester. At least according to Google Maps, which places Ashmont right between Upham's Corner & Savin Hill: So, is 'Old Ashmont' up for grabs now?
Posted in Boston | Tagged Ashmont, Dorchester, polish triangle, Savin Hill, Upham's Corner