Well, there's a lot of information that I could put here so I've split it up into sections. Also, since I don't want to constantly use "I" and do not want to appear wicked narcissistic, the rest of this section will be written in the third person. Yes, Adam understands referencing himself in the third person may come off as being even more narcissistic to some people, but Adam also understands you cannot appease everyone.
Adam writes here on a random schedule though you can expect 4-6 posts per week on average. Adam does not promise any more or any less as this site is his personal blog for him to write about whatever at anytime. Adam knows you'll enjoy the content.
Biographical
Adam was born and raised in the Upham's Corner portion of the Dorchester neighborhood of the great city of Boston in the fine state of Massachusetts, in the proud country of the United States of America on a relatively small but vibrant pumpkin-shaped object called Earth. Here is the latest satellite imagery of Adam's original neighborhood, Edward Everett Square: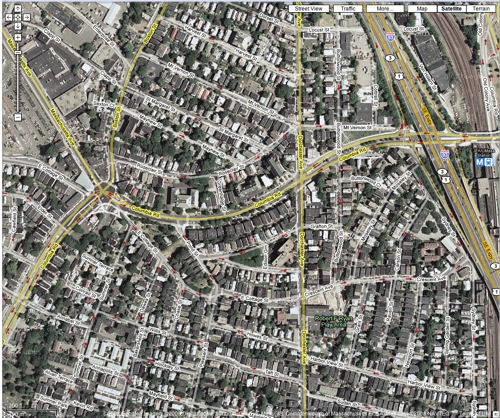 Educational
Adam began his elementary education at the Saint Mary School in South Boston, MA. He attended grades 1 through 6 there, earning excellent marks in all subjects except Penmanship. While enrolled in the 6th grade, Adam applied to the Boston Latin School [BLS] for admission into the 7th grade at the highly selective public high school/college preparotry . His "A" GPA and high test scores gained him entrance into BLS as a sixie, a term referring to Boston Latin students who are in the 7th grade.
Once enrolled, Adam generally excelled at the Boston Latin School in the academic realm. In the eighth grade, Adam joined the freshman football team, and was assigned a Captain's position in the ninth grade. Unfortunately, these teams did not break the very long losing streaks of Boston Latin School's freshman football teams, but the experience Adam and his teammates gained allowed them to establish one of the better records for Junior Varisity football teams at Boston Latin School in recent history (3-7), topped off by beating their rival, Boston English High in the final game of the JV season.
In his junior year, Adam founded a Stock Market Club and in his senior year ran for Class Treasurer. Though he advanced out of the initial field of ten candidates to the final two, he ultimately fell short in a very close race. The experience taught Adam that good ideas and slick marketing were not enough to win a political race and that being more outgoing would help exponentially. In Adam's senior year he decided to attend the University of Southern California, a decision that meant he'd be leaving his home of 18 years for the second time, but by himself for the first time (Adam spent six months in Poland as a child).
Though Adam enjoyed his time as a Trojan at USC, he applied to five schools as a transfer, gaining acceptance to the University of Michigan at Ann Arbor and the University of North Carolina at Chapel Hill. After visiting both campuses, Adam near instantly fell in love with the warm and friendly attitude down south and decided to become a Tarheel.
Life does not always turn out as planned and in Adam's junior year he withdrew from the University of North Carolina at Chapel Hill and moved back home to Boston.
Once there he worked a few odd jobs and finally ended up working in the Global Services department of the State Street Corporation.
Some books and other products linked on my blog are provided in association with Amazon.com.
All content is the intellectual property of Adam Pieniazek, unless otherwise stated or implied.
Copyright © Adam Pieniazek 2009.